Are you ready to take your woodworking skills to the next level?
In this article, we'll show you how to use a parting tool on a wood lathe. With the right technique and a few safety precautions, you'll be able to create precise and clean cuts in your projects.
We'll guide you through choosing the right parting tool, setting up your wood lathe, and using the tool effectively.
Get ready to enhance your woodworking abilities and bring your projects to life!
Safety Precautions
Before you start using the parting tool, make sure you're wearing the appropriate safety gear. Safety should always be your top priority when working with any kind of power tool.
To protect your eyes from flying debris, wear safety glasses or a face shield. These will shield your eyes from any potential accidents or projectiles.
Additionally, it's important to wear ear protection to prevent hearing damage caused by the loud noise generated by the lathe.
Make sure your clothing is fitted and not loose, as loose clothing can get caught in the spinning lathe and cause serious injuries.
Lastly, always ensure that you have a clear and clutter-free work area to avoid any accidents while using the parting tool.
Choosing the Right Parting Tool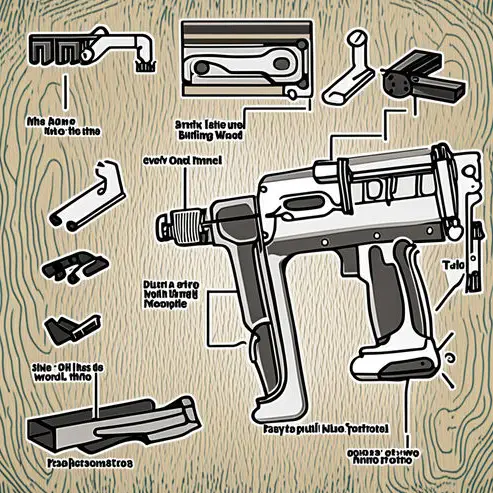 When selecting the appropriate parting tool for your project, it's important to consider the material and desired result.
Different materials require different types of parting tools to achieve the best outcome. For softer woods, a narrow parting tool with a sharp point will work well. It allows for clean and precise cuts without causing any damage to the wood fibers.
On the other hand, for harder woods or materials like metal, a wider parting tool with a stronger and more durable blade is recommended. This will make the cutting process easier and prevent the tool from breaking or chipping.
Additionally, consider the desired result. If you want a deep and wide cut, choose a parting tool with a broader blade. For narrower cuts or grooves, opt for a tool with a thinner blade.
Setting up Your Wood Lathe
To properly set up your wood lathe, it's essential to adjust the speed and position of the tool rest.
First, make sure the lathe is turned off and unplugged for safety.
Position the tool rest parallel to the lathe bed and adjust its height so that it aligns with the center of the wood piece you'll be working on.
Next, check the lathe's speed settings and choose the appropriate speed for your project.
Lower speeds are ideal for larger pieces or when using a roughing gouge, while higher speeds are better for smaller pieces and finishing cuts.
Once you've made these adjustments, you're ready to start turning your wood and create beautiful, precise cuts with your lathe.
Proper Technique for Using a Parting Tool
The key to using a parting tool effectively is maintaining a steady hand and applying gentle pressure.
When using a parting tool on a wood lathe, it's important to remember that precision and control are crucial.
Start by positioning the tool rest at the center of your workpiece, adjusting it to the desired height.
With your lathe turned on, bring the parting tool close to the wood, making sure it is aligned with your desired cutting line.
Keep a firm grip on the tool and slowly advance it into the wood, applying gentle pressure.
Remember to maintain a steady hand and let the tool do the cutting.
Avoid forcing the tool or using excessive pressure, as this can lead to accidents or damage to your workpiece.
Practice patience and take your time to achieve clean and accurate cuts.
Finishing Touches and Maintenance
After using the parting tool, it's important to apply a protective finish to the wood to enhance its durability and appearance.
Start by sanding the wood surface with sandpaper to ensure a smooth finish.
Next, choose a suitable finish, such as varnish or lacquer, based on your desired look and level of protection. Apply the finish evenly using a brush, following the grain of the wood.
Allow the finish to dry completely before applying additional coats, if desired.
Once the finish is dry, lightly sand the surface with fine-grit sandpaper to remove any imperfections.
Finally, apply a second coat of finish for added durability.
Regularly maintain the finish by cleaning with a soft cloth and avoiding harsh chemicals that could damage the wood.
How to Use a Parting Tool on a Wood Lathe:FAQ
What Are the Different Types of Wood Lathes Available in the Market?
There are several types of wood lathes available in the market. You can find benchtop, mini, and full-size lathes.
Each has its own advantages and features, so choose the one that suits your needs.
Can I Use a Parting Tool for Other Purposes Besides Cutting off a Piece on a Wood Lathe?
Yes, you can use a parting tool for other purposes besides cutting off a piece on a wood lathe.
It can also be used for making grooves, decorative cuts, and shaping details on your wood projects.
How Do I Sharpen a Parting Tool for Better Performance?
To sharpen a parting tool for better performance, you'll need a bench grinder and a diamond honing stone.
Grind the bevel to the desired angle, then hone the edge to a razor-sharp finish.
What Are the Common Mistakes to Avoid When Using a Parting Tool on a Wood Lathe?
To avoid common mistakes when using a parting tool on a wood lathe, there are a few key things to keep in mind. First, make sure to keep a steady hand throughout the process. This will help you maintain control and precision as you work. Second, it's important to maintain proper tool alignment.
This means keeping the tool in the correct position and angle while cutting. Finally, be careful not to apply too much pressure when using the parting tool. Applying excessive force can lead to rough or uneven cuts. Remember, practice and patience are key to improving your technique.
Can I Use a Parting Tool on a Piece of Wood That Is Not Perfectly Round?
Yes, you can use a parting tool on a piece of wood that is not perfectly round. However, keep in mind that the results may not be as clean and precise compared to using it on a perfectly round piece.
Conclusion
In conclusion, using a parting tool on a wood lathe can be a rewarding experience once you've mastered the proper techniques.
Remember to always prioritize safety by wearing protective gear and securing your workpiece firmly.
Choose the right parting tool for the job, set up your lathe correctly, and practice the proper technique to achieve clean and precise cuts.
With regular maintenance and proper finishing touches, your wood lathe and parting tool will continue to deliver excellent results for all your woodworking projects.