With so many brands of chainsaws flooding the market today, buyers are often faced with the challenge of establishing the best option to pick from. 
Worry no more. Our comprehensive review for the best all around chainsaw looks at the popular models in the market, highlighting the key features and merits of each type.
Top of our list is the Remington RM4214, possibly one of the best chainsaws for cutting firewood. RM4214 is a versatile gas model with a powerful 42cc 2-cycle engine. Besides being ideal for hard-to-reach areas, Remington RM4214 Rebel is reliable and good for trimming and pruning trees.
Furthermore, RM4214 is also one of the best top handle chainsaws. Among the machine's most outstanding features is being equipped with a 5-point anti-vibration system and cushion wrap handle, enabling the user to operate with ease.
Key Features
RM4214 has a Quick-Start technology for stress-free pull starts
Equipped with a 42cc crank engine that guarantees a high output while providing greater power and less vibration.
A 14-inch bar which is sprocket tipped with a chain that can easily cut through wood and branches.
An automatic oiler that enables the saw to cut smoothly as it is always lubricated.
Spark plug and filter that is easily accessible
Side-mounted screw tensioning system for easy adjusting during work.
Specifications
Engine: 42cc Gas powered engine (Quick-Start technology)
Bar & Chain: Sprocket-tipped 14-inch bar and chain
Ideal Usage: Trimming and thinning branches
Oiler: Programmed and Modifiable.
Pros
The RM4214 is reliable, powerful, durable, and easy to use.
Remington RM4214 is cheap and affordable.
The heavy-duty 42cc engine is not only powerful and durable but also guarantees longer equipment life.
The side-mounted tensioning system is useful in saving time and ensures the tension chain stays consistent.
Rebel 42cc 14" is backed by a 2-year limited warranty, which is an added advantage.
Finally, the package comes with a manual to guide the user on how to operate the machine.
Cons
The primer bulb is located beside the handle and can easily cause an accident.
The automatic oiler sometimes gets clogged and eventually fails.
The RM4214 sometimes overheats.
Final Verdict
Remington RM4214 is the machine to invest in. The machine is well built, versatile, durable, and easy to use. Furthermore, the sprocket-tipped 14-inch bar and chain will help in sawing through branches and wood comfortably while the adjustable automatic oiler maintains the chain in perfect condition.
If you are searching for the best all-around chainsaw powered by gas, the Husqvarna 16 Inch 440eII gas-powered saw is the model to go for.
Husqvarna 16 Inch 440e II splits hardwoods with minimal effort as the machine is powerful. The Husqvarna not only has excellent safety features, but the engineering is superb as well.
Specifications
Engine: 2 cycle engine with inertia activated chain (x – torq)
Bar and chain speed: 2900rpm
Quick-release air filter
Fuel Pump: Smart Start with auto-return stop switch
Chain-tensioning system: Side Mounted
Oiler: Automatic
Features
The Husqvarna 440e is equipped with a fast release air filter to aid in the replacement of the air filter and cleaning.
Flip-up tank cap that eases opening and closing during refueling.
The tool has an automatic Chain oil that enables a continuous supply of bar and chain oil, guaranteeing safety, and effectiveness.
The 2-cycle engine has an inertia activated chain brake that provides safety when operating.
Husqvarna features X-torque, which lowers the overall fuel consumption, qualifying Husqvarna 440E as the best inexpensive chainsaw.
The chain tensioning system mounted at the sides of the Husqvarna facilitates easy chain adjustments when working.
Pros
Simple to operate
Remington RM4214 is cheap and affordable.
Quick starting engine
lightweight hence efficient
User-friendly and powerful.
Excellent safety features
Cons
The Husqvarna 440e is bulky.
Husqvarna doesn't offer reliable product support
Final verdict
Husqvarna 16 Inch 440e II Gas Chainsaw is quite effective in cutting big woods, and with the machine's inbuilt safety features, the Husqvarna 16"is possibly the best in the market. Though the Husqvarna's weight and bulky appearance may be an issue for some, the machine's benefits make Husqvarna an invaluable option for professional woodcutters.
The DEWALT DCCS690M1 is perfect for medium-sized projects. The tool works perfectly well without having the headache of pulling strings and interacting painstakingly with oil mixers.
In terms of functionality, DEWALT DCCS690M1 40V 4AH Lithium-Ion XR is distinguished as the best rated electric Chainsaw in the market. Powered with a 40V Lithium 4AH battery, the powerful brush less motor works just as efficiently as a gas-powered alternative.
Specifications
Bar size: 16-inch
Battery Voltage: 40V Max system
Battery Type: Lithium-ion
Bar type: 16-in Oregon bar and chain
Voltage: 160 WH
Oiling system: Lubrilink and Lubriwell auto-oiling system
Brakes: chain brakes
Speed trigger: Variable
Motor: Brushless
Features
DEWALT DCCS690M1 40V 4AH Lithium Ion XR Brushless saw, 16″ has a free chain tensioning and a bar tightening knob that enables proper bar clamping force.
While the nominal voltage is 36, the maximum initial battery voltage for this tool is 40 volts.
For continuous lubrication, the brush less DEWALT DCCS690M1 40V has an auto-oiling with Lubrilink and Lubriwell.
DEWALT DCCS690M1 40V 4AH Lithium-Ion XR is equipped with a variable speed trigger.
The tool has a quarter-turn oil cap that facilitates fast oil re-fills.
DEWALT DCCS690 features an inbuilt tool-free tensioning system that facilitates fast bar and chain adjustments.
Another valuable feature is a chain brake for kick back protection.
Pros
DE WALT can be operated and handled with relative ease
Extended long chain life
Low maintenance costs, hence, cheap and affordable.
The machine only weighs only 12.3 pounds
Over-molded handles for extra comfort
Equipped with functional safety measures hence making it user friendly.
Prompt and trustworthy customer support
Cons
DEWALT is a rather expensive model.
The oil levels run out pretty fast, thus, requiring constant attention.
Final verdict
Going by Amazon ratings, DEWALT DCCS690M1 is quite popular in the market. DEWALT DCCS690M1 is relatively easy to use and comes with a comprehensive manual to help use efficiently. Additionally, DEWALT provides quality customer support to address emerging issues with the machine's functionality officially.
4. XtremepowerUS 22″ 2.4HP 45cc Gasoline Gas 2-Stroke Chainsaw Cutting Wood Cutter Industry Engine Motor EPA, Orange
Fourth on our review is XtremepowerUS 22″, a 2.4HP 45cc Gasoline Gas 2-Stroke saw. Most of the experienced lumberjacks in the world are going for a powerful model due to the enhanced performance and durability. The effective woodcutter's tool also has low fuel consumption and low gas emission rate, making the model a good candidate for the best arborist chainsaw in the market.
Specifications
Color: Comes in two different colors; orange and black
Power Source: Gas
Oil tank: 0.25 liters
Fuel capacity: 0.55 liters
Maximum cutting length: 21 inches
Pump type: Automatic pump type
Features
2.4HP Eco-boost engine that lowers fuel intake and reduces CO2 emissions. However, the engine is powerful enough to cut through hardwoods.
The XtremepowerUS 22″ 2.4HP 45cc has a clean air intake system that disallows large debris and dust particles from reaching the engine.
The machine also features a clean engine air-intake system that enables the engine to run for a long time without breaking down.
Anti-vibrating design for stress-free operation over many hours.
A lightweight model.
The XtremepowerUS 2.4 HP has a relatively small tank capacity; 0.25litres; appropriate for machines that do not consume fuel slowly.
With a bar length of 22 inches, XtremepowerUS 2.4HP is appropriate for cutting through hardwood effortlessly.
The tool is equipped with an assisted Starting and Quick stopping control system that offers increased user safety.
Adjustability. All the filters can be accessed and adjusted easily, thus, boosting performance.
Equipped with an electric ignition that has an automatic choke to facilitate easy starting.
Pros
Easy to start.
Low fuel consumption
It does not emit much gas, and it therefore eco-friendly.
The tool is powered with a power output of 2.4HP which makes it suitable for heavy works.
Moderately priced
Cuts hardwoods easily
The manual is easy to read, and the guidelines are well laid down.
Cons
Cheaply made with many plastic parts and mesh air filters, hence the low quality.
Replacement parts are not readily available.
The tool overheats after 30 minutes of use, eventually decreasing the machine's effectiveness.
With time, the starter fails.
The plastic handle cannot withstand heat directed to it from the exhaust for many hours without melting and eventually spoiling.
Final verdict
XtremepowerUS 22″ is appropriate for performing heavy-duty tasks andcan be operated easily. Besides that, the tool is quite economical. The additional user manual, warranty, and customer support come in handy during handling. The model is a decent choice for woodcutters looking for a low fuel combustion power saw.
The WORX 16" 3.5 HP 14.5 Ampis well above your regular power saw. The tool-free model is one of a kind with tons of amazing features. The WORX WG303.1 features an auto-tension, which cuts out the need for constant adjustments. The auto-mechanism makes operating WORX 16" super easy. You don't need prior experience to operate the machine. Besides, WORX is designed for maximum comfort and control, further enhancing user experience.
Specs
Motor Output: 14.5 Amps
Voltage: 120v – 60Hz
Chain System: Auto tension
Battery: No
Bar Length: 16 – inch
Chain Pitch: 3/8 inch
Oil Tank capacity: 200ml
Chain links: 57
Warranty: Yes (3 years)
Features
The WORX WG303.1 features a patented auto-tension system that ensures the chain's tension remains at optimum even after several uses
A low kickback bar and a chain brake to guarantee the operator maximum safety.
Being an electric type, the chain speed operates at 12 m/s
An automatic oil lubrication system
Pros
The WORX WG303.1 has extra safety features
Easy to operate even with zero experience in woodcutting
The auto tensioning setting ensuring optimal performance all through
The WORX WG303.1 provides a hassle-free operation
The WORX 16" is designed for durability providing quality service for a long time
A lightweight machine,hence, work is less tiring
Ergonomic handle to provide comfort while working
Cons
The electric cord could make handling the WORX 16" a bit challenging
The WORX WG303.1 uses too much oil
The adjustment knob sometimes gets loose so will need constant readjusting
Final Verdict
The WORX 16" is one powerful all-round chainsaw that I'd recommend to anyone involved in the wood business. The powerful saw provides the power required to effectively get the job done while going the extra mile to guarantee safety. The auto tensioning system is another plus for the WORX 16" model, adding to the machines' performance rating.
Welcome the Greenworks 16" 40V cordless saw, a suitable alternative to gas-powered model. The Greenworks 16" provides up to 30% more torque compared to regular chainsaws, while reducing vibration by 70% for comfort. Check out the Greenworks 16" model's unique specifications and key features below.
Specs
Dimensions: 31"x9"x8.5"
Weight: 10.36 lbs.
Saw Pitch: 0.375"
Battery: Lithium-ion battery (Batteries included)
Warranty: Yes
Key Features
The Greenworks brushless motor features more torque and enhanced power, meaning less wear and tear.
Greenworks 16" 40V is compatible with the Greenworks G-MAX system offering a wide range of tools to choose from.
Thesaw's design reduces vibration by 70%, making work more comfortable.
The motor delivers 30% extra torque, thus, superb log – cutting performance.
Electronic chain brake and low kickback for additional safety
Pros
The motor offers longer run-time
Enhanced durability
Superb performance
The chain brake and low kickback feature guarantee extra safety
User friendly – has 70% less vibration
Cordless, hence, easier handling
Lightweight
Noise-free
Cons
A lot of oil leaking, hence, wastage
Final Verdict
The all-round Greenworks 16" 40V cordless chainsaw is a very popular model in the market. Being battery-charged, starting, and running is easy. The only problem comes when you use different oil from the recommended type. Many users have complained about excessive leaking. Apart from the leakage, the Greenworks 16" is a valuable tool for professional woodcutters.
The Black + Decker 20V cordless chainsaw is another quality, powerful saw available in the market. Featuring a 10" bar and chain for smooth cuts, the woodcutting tool comes with a ton of extra features for quality performance and extended safety.
Specs
Dimensions: 16.7" x 8.8" x 9.6"
Weight: 7.2 lbs.
Battery: Lithium-Ion (Batteries included)
Key Features
The Lithium battery (20V) offers long run time and 5x longer life
Low kickback and brake chain for operator safety
A tool-less chain tensioning system for easy adjustments
A wrap-around bale handle for comfort during handling
The Black + Decker only weighs 7.2 lbs., thus, easy to operate
Pros
Lightweight
Easy adjustments
Longer battery life
Extra safety features
East to set up
Cons
Not suitable for cutting thick wood
Final Verdict
If you are looking for an ideal power saw to handle simple wood cutting jobs, then the Black + Decker cordless chainsaw would be a perfect solution. The lightweight machine is easy to operate and gets the job done with minimum struggle.
8. Husqvarna 20" 455 Rancher Gas Chainsaw
Husqvarna is a very popular brand among woodcutters, having made a huge contribution in the field. The Husqvarna 24" 460 rancher, for example, is one of the best professional chainsaws in the market. Featuring a perfect balance between ergonomics and performance, the gas-powered chainsaw is very common in woodcutting.
Specs
Product Dimensions: 20 x 9.5 x 41 inches
Power source: Gas-powered
Weight: 12.8 pounds
Color: Orange
Key features
A robust all-round machine ideal for jobs requiring a longer bar
Activated chain brake for enhanced safety
Automatic chain oiler for automatic oiling and optimum performance
Husqvarna features an x-torque lowering fuel consumption and emissions
Features a quick-release air filter
A side-mounted tensioning system for easy adjustments
Pros
The Husqvarna rancheris easily adjustable
Guarantees safety during operation
Enhanced durability
Flawless safety controls
The Husqvarna rancher offers value for the money
Cons
A bit bulky and heavy for many users
Final Verdict
The Husqvarna 20" 455 rancher is a good option for woodcutters that prefer gas to electric chainsaws. Apart from the issue of size and weight, the Husqvarna rancher is designed for perfection. We'd recommend Husqvarna 20" as a reliable saw for lumberjacks.
The Oregon CS1500 is a very unique saw, being the only type today with self-sharpening capability. The Oregon CS1500 has all the features of an electric chainsaw, with the additional feature of Power Sharp chain sharpening.
Specs
Weight: 12.9 lbs.
Bar length: 18"
Oiler: Automatic
Instant start capability
Key Features
The Oregon CS1500 features an 18" guide bar and Power Sharp chain allowing the operator to sharpen the chain while still attached to the saw
Instant start capability
Automatic oiling system to keep the chain oiled at all times
Doesn't require initial assembling
Features a chain brake for additional safety while working
Ergonomic design for comfort
Tool-less chain tensioning system
Pros
Low noise production
Zero emissions
Comfortable handling
The Oregon CS1500 is easy to operate
The built-in oiling system ensures the chain operates at optimum always
Easy to sharpen
The power sharp sharpening system reduces downtime due to a dull chain
Quality customer support
Cons
Sometimes the chain may jump off the bar
Low lubrication greatly affects functionality
The side-mounted motor may affect balance, affecting handling
Final verdict
The Oregon CS1500 model is the perfect chainsaw for anyone looking for a high-power, low noise power saw to trim the backyard. The extra features offered by OREGON, such as Instant Start, make the model pretty simple to work with.
10. Poulan Pro 20" 50cc 2 – Cycle Gas Chainsaw PR5020
The 20" Poulan Pro is a powerful all-round chainsaw that is also easy to start and operate. The Poulan Pro is a low weight gas-powered model, fitted with OxyPower engine for boosted power and performance. The additionalintegrated choke/stop controls make the Poulan pro 20" 2-cycle gas chainsaw an ideal tool for the professional arborist.
Specs
Dimensions: 12" x 16" x 11.8"
Weight: 17lbs.
Soft Start
Manufacturer: Poulan Pro
Warranty: 2 years
Key Features
Unique spring-assisted EPS (Effortless Pull-Start System) allowing 30% easier starting
Powerful 2-stroke engine
The powerful Poulan Pro 20" is equipped with a filtering system, which helps reduce fuel consumption
The OxyPower engine provides maximum power to handle any task
70% reduced emission rate
The combined choke/stop control allows easy starting and operation
Pros
Easy to handle even for beginners
Easy to start
The chain is easily adjustable
Quality customer support
Cons
The tightening bolts may get loose affecting performance
Prone to flooding
A bit bulky
Final verdict
The Poulan Pro 20" is a quality option for the average woodcutter or hobbyist. We find the Poulan Pro a quality saw model and a good deal for the money. The woodworker's tool can handle most of the regular farm jobs. If you are looking for a simple yet efficient chainsaw for use in your home yard, you can count on Poulan to get the job done.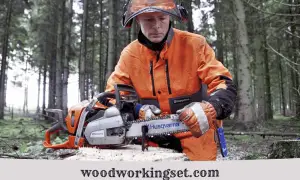 11. Makita Electric Chainsaw, 16" Bar
The Makita UC4051A 16" is a heavy-duty electric saw designed for quality performance and efficient handling. With an electric chain brake, Makita has the operator's best interests at heart, guaranteeing operator safety. If you are in need of a quality electric farm tool that will save you a few bucks, Makita 16" bar is a suitable option.
Specs
Dimensions: 10" x 24.2" x 10.5"
Weight: 14 lbs.
Power source: Electric (corded)
Manufacturer: Makita
Key Features
Tool-less adjustments to allow easy operation and handling
Automatic
Automatic chain oiler allowing optimum performance
Electric chain brake for added safety
Ergonomic rubber handle for added comfort
A current-limiter to regulate power into the motor to prevent motor burnout
A large oil reservoir with a view window for easy checking of oil level
Smooth start-up
Corded, hence constant electric supply
Pros
Quick start-up even after months of no-use
Ease of use and maintenance
Money-saving option
Comfortable ergonomic handle
Heavy-duty
Designed for fast cutting
Warranty and 30-day return policy
Cons
Has a low capacity oil reservoir
The Makita UC4051A 16" doesn't come assembled
Final Verdict
The Makita electric chainsaw is a suitable alternative for a fuel alternative. The Makita is ideal for middle to heavy home jobs, so if you are looking for a cheap yet reliable electric saw, Makita would be a suitable option. Ensure to read the user manual carefully to learn the assembling process, as well as additional tips on usage.
The EGO Power+ CS1400 14" is a cordless electric chainsaw with several features to enhance performance. The EGO POWER+ CS1400 model has a 14" bar and chain, together with a hi-efficiency brushless motordesigned for smooth cuts. Other features include; low noise, zero emissions, and extended durability.
Specs
Product Dimensions: 30.1"x9.4"x9.8"
Weight: 8.3 lbs.
Manufacturer: EGO Power +
Features
Hi-efficiency 6300rpm brushless motor for quality performance
14" premium Oregon bar and chain for smooth cuts
Low kickback for guaranteed operator safety
Weather-resistant body
Powerful output with zero-emissions and low noise
Machine cooling technology for optimal performance
The 56V ARC Lithium battery is compatible with all EGO POWER+ tools
Pros
The EGO POWER+ CS1400 is durable thanks to having a weather-resistant body
Easy to clean up after use
Easy handling
Low noise
Low kickback for safety
Cons
Not ideal for everyday professional use due to wearing
Constant oil leaking from the reservoir
Final Verdict
The EGO POWER+ CS1400 is a decent all-purpose chainsaw model available in the market today. However, the lightweight EGO POWER+ CS1400 may not be ideal for everyday use. Therefore, we recommend the tool to the hobbyist rather than the professional woodcutter.
Buying Guide – How to Pick the Best All Around Chainsaw
Are you ready to get into the market and shop for a new power saw? The many different types in the market may beoverwhelming. Our effective buying guide should help you know what to look for when choosing an ideal saw in the market.
1. Which is the best Size and Shape?
The power saw's size and shape is an important factor to consider. The longer and more powerful the chain bar is, the heavier the machine gets. To determine the perfect size,you'll need to consider the diameter of the logs you wish to cut. Always go for a chain bar that is at least 2 inches larger than the log's diameter.
2. Which Features and Specifications Should One Consider?
The next step is to know the features and specifications to look for.
Starting Mechanism
The last thing you want is ending up with a machine that takes forever to start. When a machine starts quickly, work gets less stressful. Therefore, always consider how the preferred chainsaw starts before buying one.
You have two options to choose from: electric or gas-powered
An electric saw is the better choice, provided you have access to the constant electricity supply. If not, consider buying a cordless saw, which uses a rechargeable battery, or a gas-powered model.
On the downside, agas-powered saw may have issues while starting and operating. However, many manufacturers have added a few features like spring-assisted pull starts and choke control to make the process easier.
Engine Power
The engine power greatly affects functionality. The engine power determines the speed of the chain and resistance. Therefore, always ensure that your saw's engine power matches the kind of task you have.
For example, if you plan to cut a hardwood like the oak tree, you are better off with a 62cc engine compared to a 32cc.
Chain Bar aka Guide Bar
The chain bar, commonly called a guide bar, is the saw's metal component that allows the chain to rotate. As the engine pulls the chain, the guide bar provides support and guides the chain's teeth onto the wood.
Look for:
A perfectly-sized chain bar, depending on your size of logs
Superior quality chain bar. The chain bar takes a lot of pressure while cutting the wood; therefore, a good quality bar will provide better service. Poor quality bars are known to bend under pressure
Tensioning System
Regardless of the brand you get, a saw's chain's tension is never guaranteed to last forever. Now and again, you will need to adjust the tensioning to maintain the quality of work. Different brands have different chain tensioning procedures, which should take about 10 – 15 minutes.
With traditional models, you had to adjust some screws to get the tensioning right. However, recent models come with a tool-less tensioning mechanism that allows you to correct the chain's tension much more easily.
Almost every modern saw has the new tool-less tensioning system, making adjustments easier.
Power Source
Another factor to consider when buying a power saw is the machine's power source. You have 3 options to choose from gas-powered, corded electric, and cordless/battery electric saw.
You will need to consider the unique benefits provided by each type before making a choice.
Safety Features
Chain Brake
The chain brake is the most important safety feature you should consider on any saw. The chain brake looks like a plastic handguard located at the front of the body. The brake can be activated manually by pulling, or automatically when the saw jerks immediately. The automatic activation is also called inertia activation and helps reduce the risk of accidents while operating.
Chain stopper
Professional saws are dangerous machines, due to the powerful cutting power. Many manufacturers include several features to reduce the risk of accidents. A chain stopper is one such safety feature.
The chain stopper, or catcher, is designed to intercept a damaged chain, thus, reducing the risk of injury to the operator.
Though the chain stopper does not stop the chain from hitting the operator in case of kickback, the safety feature ensures the chain doesn't keep rotating while hitting the operator.
Avoid buying a traditional saw, which may not be fitted with a chain stopper.
Low Kickback
Kickback occurs when the chain abruptly stops, most times throwing the blade towards the woodcutter. The accident occurs when either the chain gets pinched in a log or the saw's nose sticks in the wood.
The kickback happens so fast, that the operator can barely jerk away to avoid injury. Being a common accident, many manufacturers have added special features to reduce risk.
Buysaws that come with a low kickback chain and guide bar. A bar tip guard also provides extra safety.
Vibration Reduction
Essentially, modern saws are designed to vibrate a great deal while operating. The vibration is known to cause injury, such as hand-arm vibration syndrome.
To reduce stress, modern saws have a mechanism to separate the cutting segment from the handle. Some manufacturers use a spring to reduce the vibration, while others apply rubber bushes.
Note: Electric power saws have fewer moving parts; therefore, having less vibration compared to gas-powered types.
Brand
When it comes to choosing the best brand, you have many options. The brand you choose will largely depend on your budget. The best brands could be a bit expensive, but offer superior quality and value for money.
If you are a professional woodcutter and hoping to get a durable saw, I'd recommend buying top brands.
The best brands in the market today are Stihl and Husqvarna. Other common brands you can consider are Homelite, Echo, McCulloch, and Poulan. Remember to look out for the above-mentioned features to end up with the most valuable power saw for your specific work.
FAQs: Best All Around Chainsaw
Which is the best chainsaw brand?
Husqvarna and Stihl are the top brands available in the market today and for a good reason. The two popular brands manufacture quality saws featuring enhanced performance and guaranteed safety.
Should I buy an electric or gas-powered chainsaw?
Choosing between an electric or gas-powered model depends on preference. For example, if you do not have a reliable electric supply, you are better suited to working with a gas-powered chainsaw. A cordless electric saw would also be a good option.
An electric saw does feature added advantages such as reduced vibration, thus, providing better user experience.
Which is the cheapest chainsaw in the market?
I greatly advise against people focusing on scoring the cheapest saws in the market. Most times, the cheapest options have the lowest quality. Ending up with a poor quality saw may frustrate you while working and will often lead to more expenses in repairs and maintenance.
Nevertheless, the Remington Rm4216 is the cheapest saws you can get under $300 and still get quality performance. Other suitable cheap power saws are Oregon CS1500 and WORX WG3041.
Which is better between Stihl and Husqvarna?
Many people prefer Stihl to Husqvarna, and for a good reason. Generally, Stihl chainsaws have lower torque, making the machines ideal for tough cutting. Besides, Stihl saws offer easier handling, are lighter, and way cheaper than Husqvarna, which explains the increased popularity among woodcutters.
Conclusion
Finally, we reach the end of our best all-round chainsaw review. We hope that the review has been a valuable source of information and provided a better understanding of the various chainsaws in the market today. Good luck as you shop for the best chainsaw for your wood cutting needs.