Many people are unable to make the right choice when it comes to choosing a drum sander vs planer. Employ both these tools in woodwork. The only difference is visible on its design, performance, design, and mechanisms. Before digging deep, let us look into some of the features:
 Drum sander
Use this tool for sanding the wood. We employ it to remove many things from wood, such as old paints as well as any stuck materials. The process of sanding ensures smoothness on the wood. Did you know that a drum sander also removes materials on plastic? This tool is perfect for those looking for a splinter-free for frames and furniture.
There are two types of drum sanders:
Industrial sander
Table sander
Mechanism:
You can easily understand the mechanism of this tool.  Turn it on; let the drub rotate on the board through its optimal speed. Hold the piece properly for a practical finish. These sanders come with different speeds a feature that enables you to adjust the speed while the drum is rotating. Once the sander is able to rotate on the entire board, you will definitely end up with a smooth piece.  These tools are easy to set up and manipulate.
Planer
Most people know it as "thicknesser" as it reduces the thickness of a wooden piece.  It also reduces the width by getting rid of layers of the wood to ensure a fine finish.
There are two types of planers:
Benchtop Planer
Freestanding planer
Mechanism:
This machine requires you to feed the board horizontally.  Its rollers hold the pieces and hands it over to the other part of the machine.  While this process is taking place, the cutter head shaves off a thin layer from your wooden board.  Each pass on the wooden piece achieves an efficient shave.  You can also use these machines to reduce the extra inches of wood.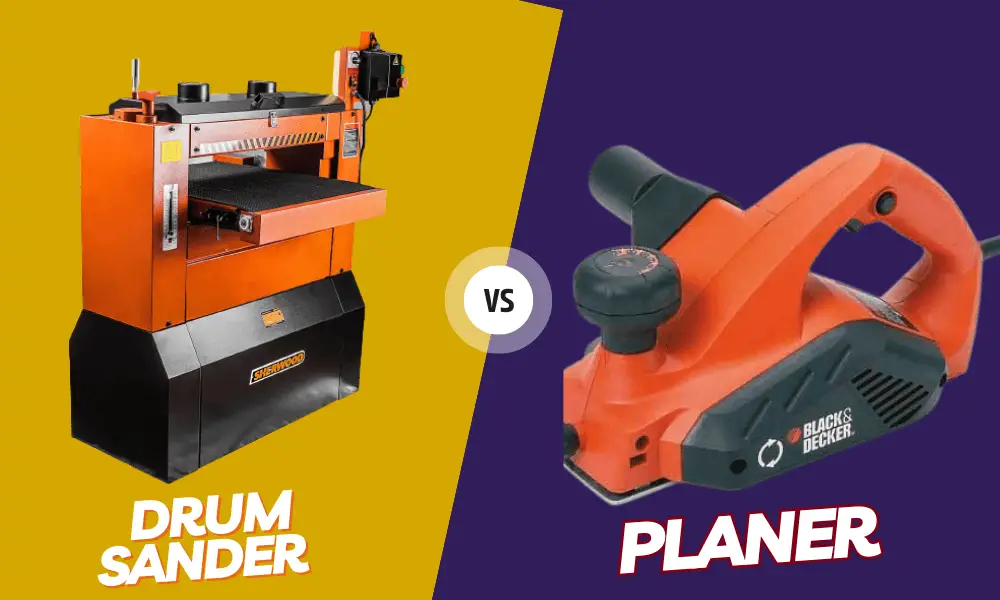 Drum sander vs planer
| | |
| --- | --- |
| Drum Sander | Planer |
|   Use only to take a thin layer from a wooden piece. It is difficult to achieve parallel surfaces as this consumes a lot of time. |   Reduces thickness. Use to make a parallel board that makes frames as well as furniture. |
|   Produces a lot of sawdust, especially when it is rotating on the wooden board. Make sure you wear goggles, gloves, and earmuffs when using this machine. |   Produces thin shavings of wood when it is getting rid of layers.   |
|   Perfect for slight sanding on the wooden piece. |   Use to reduce the thickness of the wood. Sand the wood using sandpaper.  Suitable for woodworkers who are into furniture making. |
|  Sands the wooden piece evenly. | Can shave the tail as well as head if you are not careful |
| Cost-effective and beginners can buy and use it as well. | More expensive than the counterpart. |
What is the objective of a drum sander?
In woodworking, the objective for a drum sander is to execute a multitude of fining sand duties that can be achieved rapidly and also nicely. The drum is either a rough product or has an unpleasant product connected to it.
Is it awkward a drum sander?
A drum sander is an entirely various device because a loophole of sandpaper continually walks around the drum, tearing down the timber regarding what you intend to go. With an orbital flooring sander, it's difficult to fail, considering that it's tough to remove way too much timber
Final Remarks
Still confused and unable to select which tool to buy? Well, it all depends on your requirements, the type of job you are doing as well as the budget. Do not buy a Drum sander if you are into furniture making. Moreover, do not buy a planer if you want to do slight sanding.